Three large media outlets:
Telegraph
,
Guardian
and
BBC News
have all reported on the Emberton five year old boy who died at Milton Keynes hospital of suspected swine flu. They've all mentioned that the Emberton School was closed as a precaution and all have reported the sadness expressed by the head teacher and all three newspapers have implied he died of
"suspected swine flu
".
The BBC even states that they spoke with the head teacher, Steve Dunning.
What none of these apparent respected newspaper discloses is that five year Charlie Callaghan was sent home from school on the Friday because of a high fever, the following day he was admitted into Milton Keynes hospital where he was
administered medication
. At 6:00am the following day he had a fit and continued to fit throughout the ambulance journey and was pronounced dead shortly after he arrived at Milton Keynes hospital at 7:23am on Sunday.
The coroner told Charlie's grandparents that it seems swine flu was definitely confirmed but the pathologist can't at the moment say what the cause of death is. A full inquest won't take place now until July 5, 2010!
It "
seems
" swine flu was "
definitely
" confirmed... using those two words in the same sentence is contradictory in itself. Either it was defiantly confirmed or it wasn't.
My point is: The Telegraph, The Guardian and the BBC News failed to report that little Charlie Callaghan was
given medication
after which he convulsed and later died...is it too much to ask the coroner and/or pathologist if it's possible that little Charlie Callaghan's death was a result of the medication? Is it too much to ask of the BBC, Guardian and Telegraph to report the whole truth rather than stir the population into believing Charlie died as a result of "suspected swine flu?"
Unfortunately, nowhere (to my knowledge) has it been stated what kind of medication was administered to Charlie for his "suspected swine flu." Sadly as is all too often the case the essential information is conspicuous by its absence.
How many other deaths have been attributed to the so called swine flu when in fact the deaths may have been as a result from medication administered for suspected cases? Going by the way the news has deliberately left out the most important information in Charlie Callaghan's case...maybe all.
So that's clear then...we all know where we stand.
Scan of local newspaper article (Milton Keynes Citizen):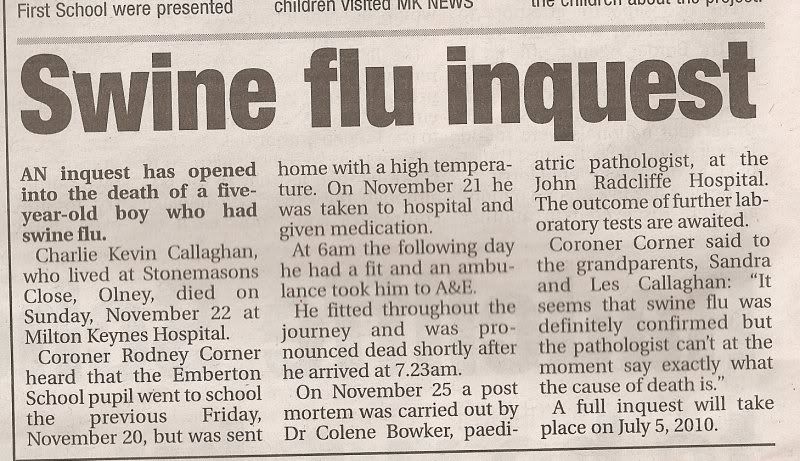 Please read:
Media Blackout, Pharmaceutical Payout and Vaccine Illusion